The Balance Blueprint
A 4-week focus group for hormonal harmony
July 10 to August 7
Inviting all women and non-binary folks who experience a menstrual cycle
I'm Ready!
What would shift for you if you considered this: the balance you seek is seeking you?
Balance is delicate and tenuous. There is no real destination, and if you ever feel like you've found it – it's fleeting. Even the "strongest," "healthiest," and "most consistent" people fall out of it.
It's part of nature. 
While the concept of balance can be mysterious, it's the body's goal through the process of homeostasis.
 Like many things regarding female health, there is little research out there. Some doctors, therapists, and coaches understand hormones, but most don't.
Have you found yourself on a wild goose chase trying to determine why you can't sleep at night? Why are you perpetually bloated? Your moods swing this way and that? Are you more anxious than ever? Is your brain foggy? Does your cycle knock you out or come and go without warning?
We understand that women over 40 face distinct challenges in maintaining hormone balance, optimizing HRV, and nurturing their overall well-being.
This focus group has been specifically designed to address these concerns and provide a supportive environment to explore effective strategies together.

JOIN THE BALANCE BLUEPRINT!
We will focus on resilience, recovery, and repair by working with:
Heart Rate Variability (HRV): HRV is an essential indicator of our body's adaptability to stress and overall well-being. Learning to track and improve your HRV can enhance your resilience, energy levels, and overall health. We will explore various breath techniques to train your HRV, empowering you with knowledge and tools for a balanced life.
Fascial-based Movement Sequence: Fascia, the intricate web of connective tissue within our bodies, plays a crucial role in mobility, flexibility, and overall physical and Physiological well-being. Our focus group will introduce you to a fascinating movement sequence specifically designed to enhance fascial health, improve posture, and promote overall body awareness.
Sub-topics will include: *
Sleep
Nutrition
Mindset
Pleasure/Play
(* Not the main focus of the project and may not be covered in all content)
While we may not wear white lab coats or carry clipboards, we will keep track of things consistently and thoroughly.
Through wearable data, we will track your daily HRV using an Optimal HRV Reader.  It is one of the greatest metrics of the overall health of your system. HRV is a metric that signifies your body's ability to recover.
Tracking is helpful and can set a baseline, but it is not the whole story. The mighty algorithm doesn't know everything! Much of the practices we do together will be in service of your interoception and ability to know how you feel through sequences that support awareness of feelings, sensations, thoughts, behaviors, and desires.
You will also receive a TuneUp Coregeous ball to use during guided practices for downregulation and interoceptive massage stimulation.
Because of the nature of the project, we are limiting it to 14 participants who menstruate or are in perimenopause between the ages of 35 and 60.
PROGRAM DETAILS
Monday, July 10 to Monday, August 7, for 28 days total.
WHO
Facilitated by Cass Ghiorse
Limited it to 14 participants who menstruate or are in perimenopause between the ages of 35 and 60
THREE LIVE SESSION
Monday, July 10 at 12 – 1:30 PM EST (9 – 10:30 PST)
Tuesday, July 11 at 2 – 3:30 PM EST (11 – 12:30 PST)
Monday, August 7 at 12 – 1:30 PM EST (9 – 10:30 PST)
* All sessions will be recorded
WEEKLY OFFICE HOURS
We will meet live every Monday 12 – 1 PM EST  for office hours. (optional)
* All sessions will be recorded
SPECIAL GROUP SECTION WITHIN THE OBC CIRCLE APP
6 pre-recorded practice videos (* the number of videos may increase)
Group discussion space for ongoing communication, sharing, and support
Accessible via phone app
LIVE INFO SESSION
We will be hosting a LIVE info session the day registration opens on THURSDAY JUNE 8TH, at 2 PM PST/ 5 PM EST
COST
$265
* Includes PDF for tracking, Optimal HRV band & TuneUp Fitness Coregeous Ball
** Will require a 1-month subscription to the Optimal HRV app ($10/mo or $64/yr)
With love and curiosity, we will explore this fundamental question: if we increase our ability to recover and repair, can we more readily come into balance?
What you discover in these 28 days could be the blueprint upon which you build a solid foundation for regaining the balance you seek, and that is seeking you. 
We hope you will consider joining this unique project.
See you there!!!
ABOUT YOUR FACILITATOR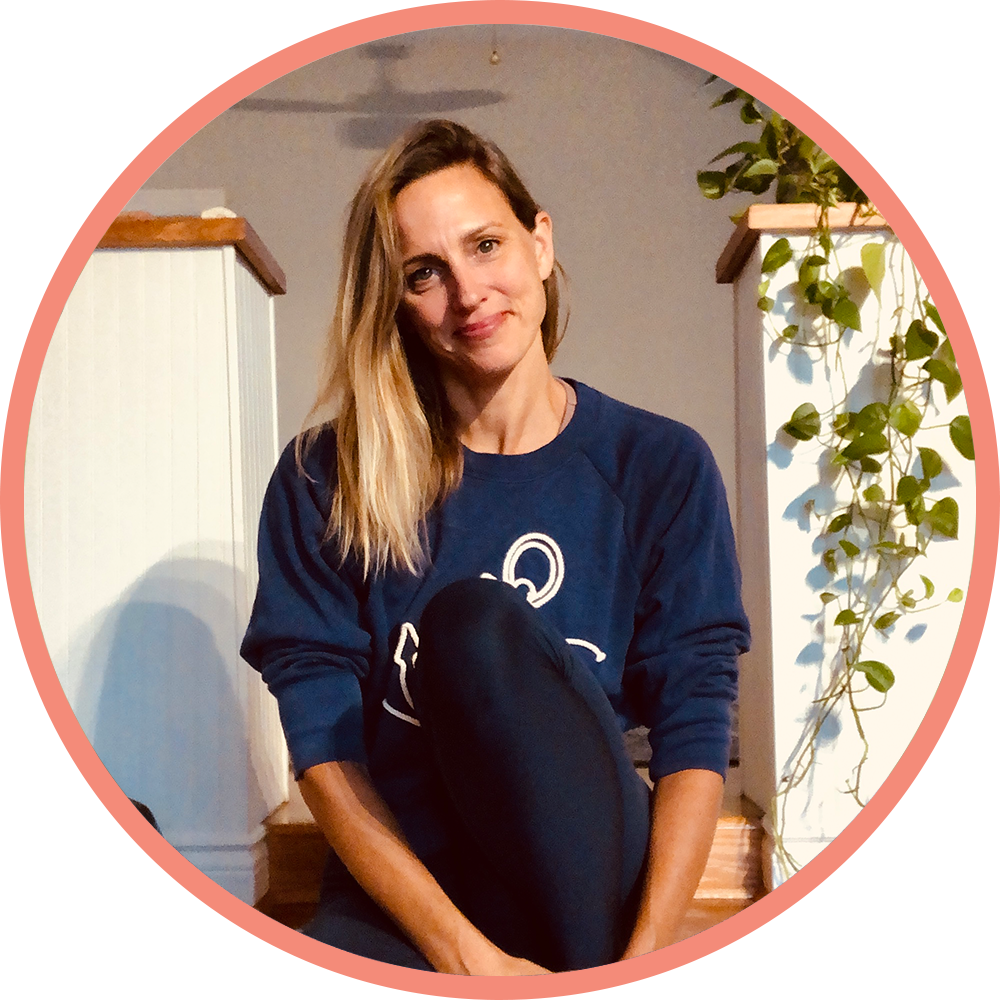 Cass Ghiorse
A seasoned teacher with 18+ years in the field, Cass is the founder of MIDLINE. In her work, Cass works with healers, creatives, and artists to help them find inner steadiness so they can flourish.
In Cass' class, you'll find a playful approach to breath-centered functional movement rather than any one movement lineage. She creates a safe space for people's curiosity and strives to teach realistic ways to integrate movement and breath awareness into life. She is known for her use of language, knowledge of biomechanics, and deep respect for personal bio intelligence.
As a teacher, she has been on staff at NIKE, Eileen Fisher, Equinox, and Google, among others. She received her Breathwork Guide certification from Our Breath Collective in 2021 as a member of their inaugural teacher training. She currently lives on the occupied land of the Anishinaabe People, otherwise known as Detroit, MI, with her husband and two children.
WHAT IS OUR BREATH COLLECTIVE
We are a subscription-based virtual breathwork community that offers daily breathes to members all across the global – from Brazil to the US to Europe and Australia. Our team of guides specialize in all the major forms of breathwork including Tummo, rebirthing, yogic pranayama, DNS, and XPT, hypnotherapy, relational meditation & presence embodiment, and more.