Breathe Alive
Wild Osa Peninsula Jungle Retreat
Matapalo, Costa Rica – July 16-21, 2022
REGISTER NOW
BREATHE  verb ~ breathe /brēT͟H/ to take air into the lungs and then expel it, especially as a regular physiological process
ALIVE adjective ~ /əˈlīv/ (of a person, animal, or plant) living, not dead; alert and active; animated
With the restrictions and limitations we have faced in recent years, there is an increasing desire to connect to a world that is alive and free – both inside of us, and outside.  Breathwork as a practice is extremely therapeutic and powerful; couple it surrounded by living nature and beautiful ocean, with a phenomenal group of people, and that power turns into a potency that words don't do justice in describing.  
As a "Collective," our commitment to cultivate this community through the breath is more vital than ever, and this is one of many reasons why we are thrilled to share a 6 night/5 day long intensive gathering of breathwork, movement, meditation, epic food, deep jungle ocean nature, and real, in-person connection in what National Geographic has dubbed "the most biologically explosive places on the entire planet" – the wild Osa Peninsula in Matapalo, in the deep jungle of southern Costa Rica.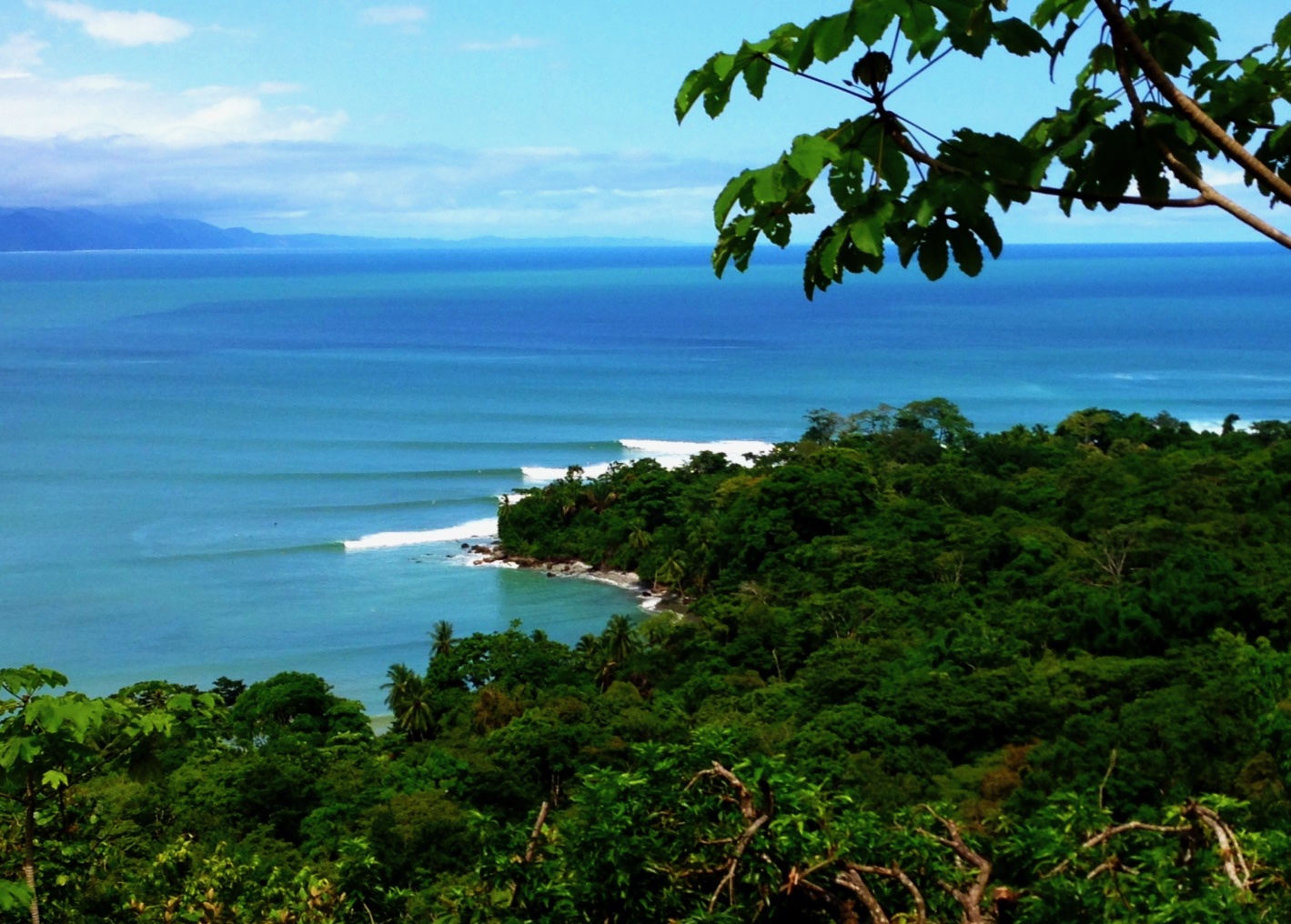 Our week in the wild Osa is an extraordinarily unique nature immersion opportunity – a geographical place where it feels we've gone back in time, and a time where like-minded human beings can come together and safely explore what it means to be truly alive – all while surrounded by and immersed in vibrant and riveting nature.
Ojo del Mar is a unique and beautiful boutique hotel with a total of 9 units, perfectly situated in an embrace where the living jungle of the Corcovado National Park spills onto the shores Gulfo Dulce Pacific ocean.  Standing on the beach at Ojo del Mar and looking south across the Gulfo Dulce, one can see Panama.  Each unit literally steps away from one of Matapalo's many cove's that is sheltered and highly overlooked by other humans.  At any time, day or night, this entire zone is teeming with an array of sounds, plants, and creatures that seem to be out of a vibrant dream.  From Scarlet Macaw's screeching overhead to multiple types of hourly monkey sightings to other rare and majestic creatures and insects from the jungle to the hypnotic and symphonic buzz of cicadas, you will feel more surrounded by living breathing nature than you likely have ever experienced ever before.
In addition to daily breathwork, movement practices, growth mindset, and heart-expanding offerings, there will be plenty of opportunity for nature discovery, solitude, and exploration of some of the most stunning ocean coastline on the entire planet.  Through a curated program of fun, impactful practices and an open dialogue that will allow you to dive deeper into the connection of your mind and body, we give ourselves the opportunity to reset, elevate, and step into the stream of an inner and outer vibratory aliveness.
We welcome all levels and abilities and we encourage curious seekers of awesome adventure to join us for this six-night, five-day immersion into the heart of the jungle and the jungle of the breath.
Please note: With 18 spaces, capacity is very limited — book now to reserve your spot.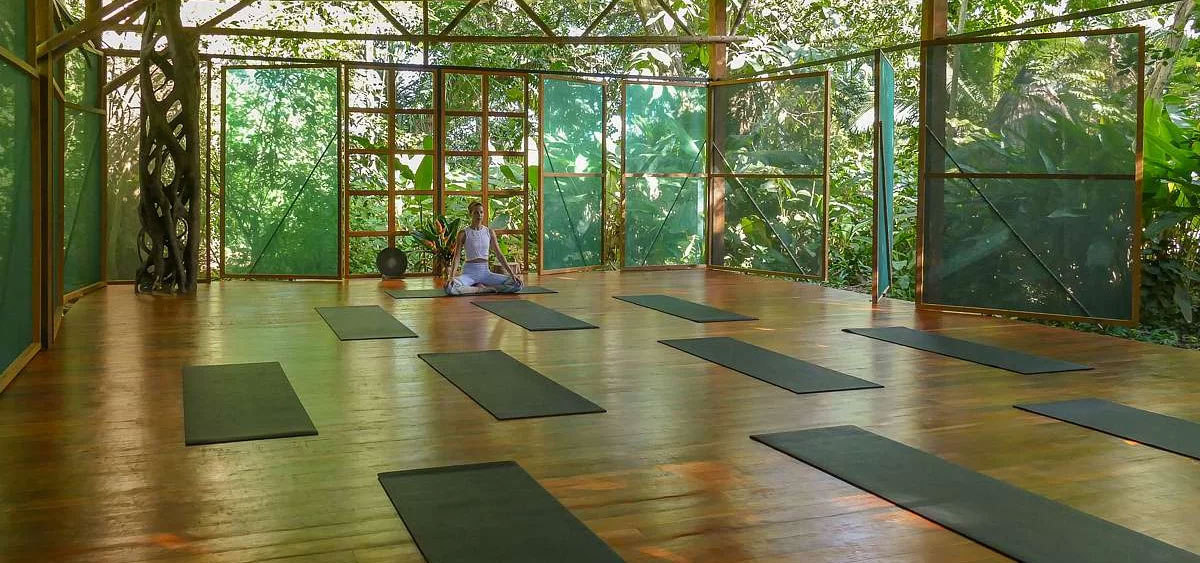 Daily Schedule
Saturday, July 16th – Thursday, July 21, 2022
SATURDAY, JULY 16
Check-In – Arrive any time after 12 pm – however, based on flight arrival times into Puerto Jimenez, staff will be welcomingly awaiting you at Ojo del Mar

6 PM: Farm to Table Dinner

730 PM: Welcome Session, featuring introduction, guided breathing session + cacao ceremony
SUNDAY, JULY 17 – WEDNESDAY, JULY 20
6 AM: Coffee, tea, and light affair in the main lodge

7 AM: Meditation (25-minute practice with guided instruction, in the yoga studio)

815-10 AM: Morning Session // morning movement and connecting activity & breathing session (*some sessions will  be held on the beach, depending on tides)

11 AM: Free time // creative block, hiking, exploration, beach time, or

additional optional activities

 / essential activities

5:15 PM: Breathwork, lighter movement, investigative discussion & q&a

6:30 PM: Farm to Table Dinner

8 PM: Sunset Session // music, dancing, fire, dessert, drinks, Martina's, etc.
THURSDAY, JULY 21
7 AM: Meditation, light fare breakfast

8-10 AM: Integration & Conclusion

11 AM: Farm to Table Brunch

12 PM: Check out
* Schedule subject to change
** Most sessions will be held in the yoga shala
WHAT IS INCLUDED:
Your reservation includes lodging at Ojo del Mar, Saturday evening until Thursday noon July 16-21, 2022. 

Breathwork and movement, morning meditation, and heart oriented community interactive relational workshops and practices.

Intensive personal work through practices and breakout sessions.

Nutritious, organic meals prepared by Ojo's amazing owner and chef, Nico (you will LOVE her, and her food!): dinner on Saturday; brunch Thursday.

Hiking, beach time, and open time for exploration
ADDITIONAL OPTIONAL ACTIVITIES:
Corcovado National Park – Full-Day Hike
Matapalo Rainforest and Waterfall – Walking Tour
Birding in Matapalo or Corcovado – Private Birding Excursions
Jungle Hikes, Walks, and Personalized Tours
Kayak Tours – Dolphin Watching and Mangrove Tours
Visiting the Osa Wildlife Sanctuary – Intense Wildlife Experience
Rio Esquinas and Golfo Dulce Boat Tour -Whale Watching and Dolphin-spotting
Rancho Tropical Horseback Ride – full-day ride through the primary forest
Surfing Lessons on the Golfo Dulce
Andy's Tree Climbing Adventure – A heart-pumping climb into the canopy!
Andy's Waterfall/Cliff Rappel
Zip Line tour of Osa Palmas
Massage Under the Giant Palms
Finca Kobo Chocolate Tour
Ngobe Indigenous Reserve – Learn about Indigenous Culture
AND MORE!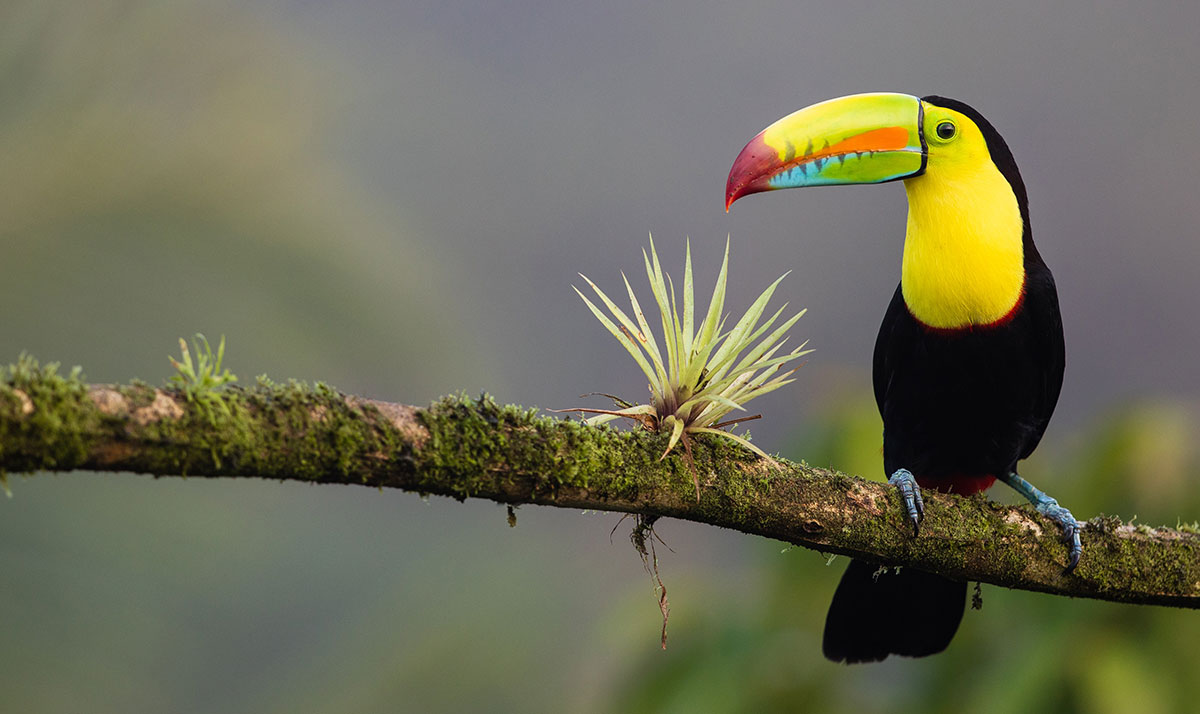 MEALS:
Nico Fischer is the owner, and head chef of Ojo del Mar.  Nico is from Germany and she has been living in the Osa for 25 years.  She built Ojo del Mar with her partner, Marc, and the architecture is distinctly and intentionally interwoven into the jungle in an ecologically sustainable and visually tasteful manner.  Nico curates unique and surpassingly delicious dishes with local ingredients and a skilled/trained chef's flair.  She serves four meals daily: a light pre-Yoga breakfast, a large brunch, a midday snack, and a complete dinner. Our daytime meals are vegetarian  (eggs are available for breakfast) and our evening meals may include meat or fish.
We offer dinner on the day of arrival; light breakfast, brunch, snack, and dinner on each full day; and breakfast on the day of departure.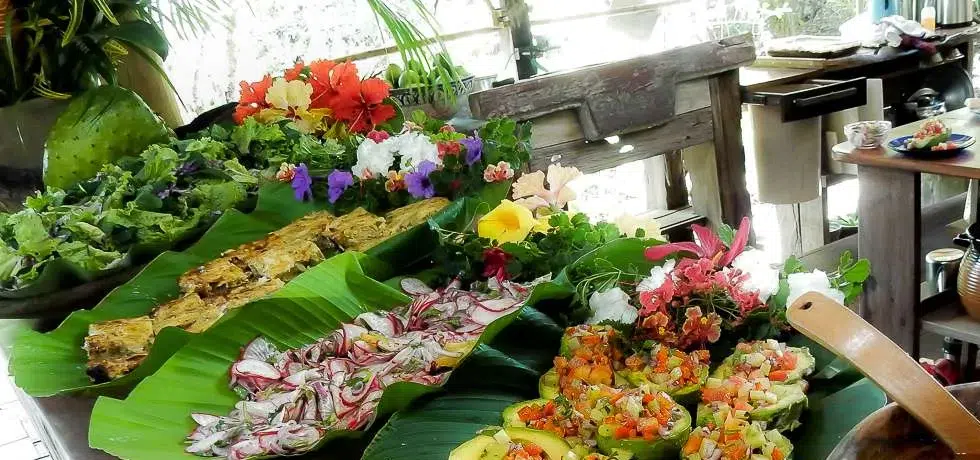 Meal serving times are: 7:00 am: Light Breakfast (Coffee, Fruit, Granola,Yoghurt) // 10:00 am: Brunch // 3:00 pm: Snack // 6:30 pm: Dinner
Meals are served communally in the main lodge, called the Casa Grande. While it is open service, it is not a traditional "all-you-can-eat" buffet; Nico's meals are proportioned and balanced for optimum nutrition and flavor. Nico and her staff can accommodate nearly all non-religious dietary restrictions and preferences. Vegetarian options can easily adapt to Vegan, Celiac (gluten-free), and allergy-friendly diets. Keto, Paleo, Raw, or Kosher/Halal diets cannot be accommodated. 
We will provide a food preferences/restrictions/allergies intake form prior to the retreat start date.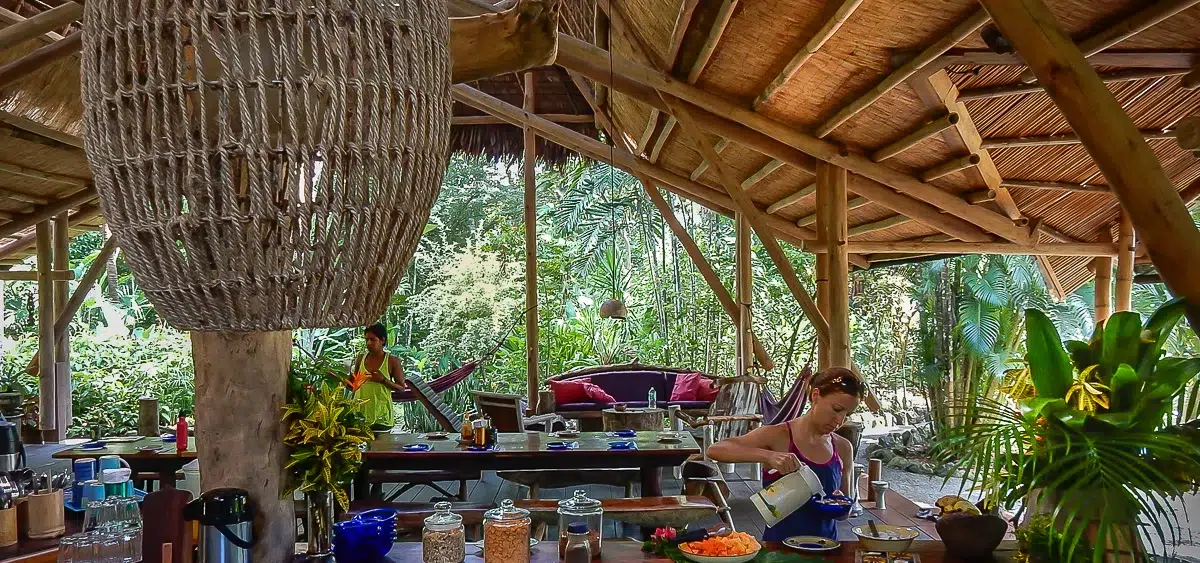 YOUR GUIDES
Luke Wientzen and Reis Paluso are a dynamic due when it comes to cultivating an environment for creativity, possibility, and potential. They share a unique principle-based approach and have a natural synergy in their leadership that complements one another from a well of diverse experience. From guiding breathing sessions, teaching workshops, or leading adventurous retreats, they provide an empowering, educational, and unforgettable experience.
Luke and Reis have studied with experts like Wim Hof, Dr. Jack Feldman, Kasper van der Meulen, Leonard Orr, and are leading the charge, working with professional athletes, military special operators, high-level executives, and incredible people, just like you
ACCOMMODATIONS & PRICING
Each space is provided with mosquito netting; 100% cotton sheets and plenty of pillows; towels and biodegradable soaps.
All prices include activities, food, and lodging for the entire experience.
Scroll through the gallery of images by using < >
BEACH HOUSE SUPERIOR CABINA
1 two-story Superior Cabina with 1 king upstairs, a double or two singles downstairs,.
Accommodates 4-5 people; ideal for two couples, or a group of friends traveling together.  Flexible, based on combinations: 
King bed: $1950/pp, $2675/couple – SOLD OUT
Singles: $1650 (2 left) – SOLD OUT
MARCANDO SUPERIOR CABINA
2 Marcando Superior Cabinas which can be set with one king-size bed and 2 singles.
King: $1950 pp, $2675/couple – SOLD OUT
Singles: $1650 (2 left) – SOLD OUT
Scroll through the gallery of images by using < >
MARAVILLA SUPERIOR CABINA
2 two-story Standard Cabinas with one double bed upstairs, two single beds downstairs (each sleeps 3 singles, max. 4)
Double  -$1950 pp, $2675/couple – SOLD OUT
Singles: $1650 – SOLD OUT
MARINA STANDARD CABINA
The Marina is a cozy, private space, ideal for couples or solo travelers. It has a double bed, and a hammock for lounging, napping, or wildlife spotting.
1 standard Cabina with a double bed (sleeps 1* or 1 couple) and shared bath.
Double – $1950 pp, $2675/couple – SOLD OUT
MARLINCHE STANDARD CABINA
Maralinche is a tranquil, open-front, two-story Cabina with one double bed upstairs and two single beds downstairs. A good choice for groups of up to 4, or families.
Beds: 2 Single(s), 1 Double
Double: $1950 pp, $2675/couple – SOLD OUT
Single: $1650 – SOLD OUT
BEACH NESTS
2 total units – these are screened structures set close to the ocean on wooden platforms. Each can be set with either one king-size bed or 2 singles (sleep max. 2* each).
Luke's recommendation for amazing nature on ocean experience!
$1425 pp, $2375/couple – SOLD OUT
Scroll through the gallery of images by using < >
GETTING THERE
Part of what makes Matapalo so special is that it is an off the beaten path destination, thus it requires some intentional planning for a smooth arrival.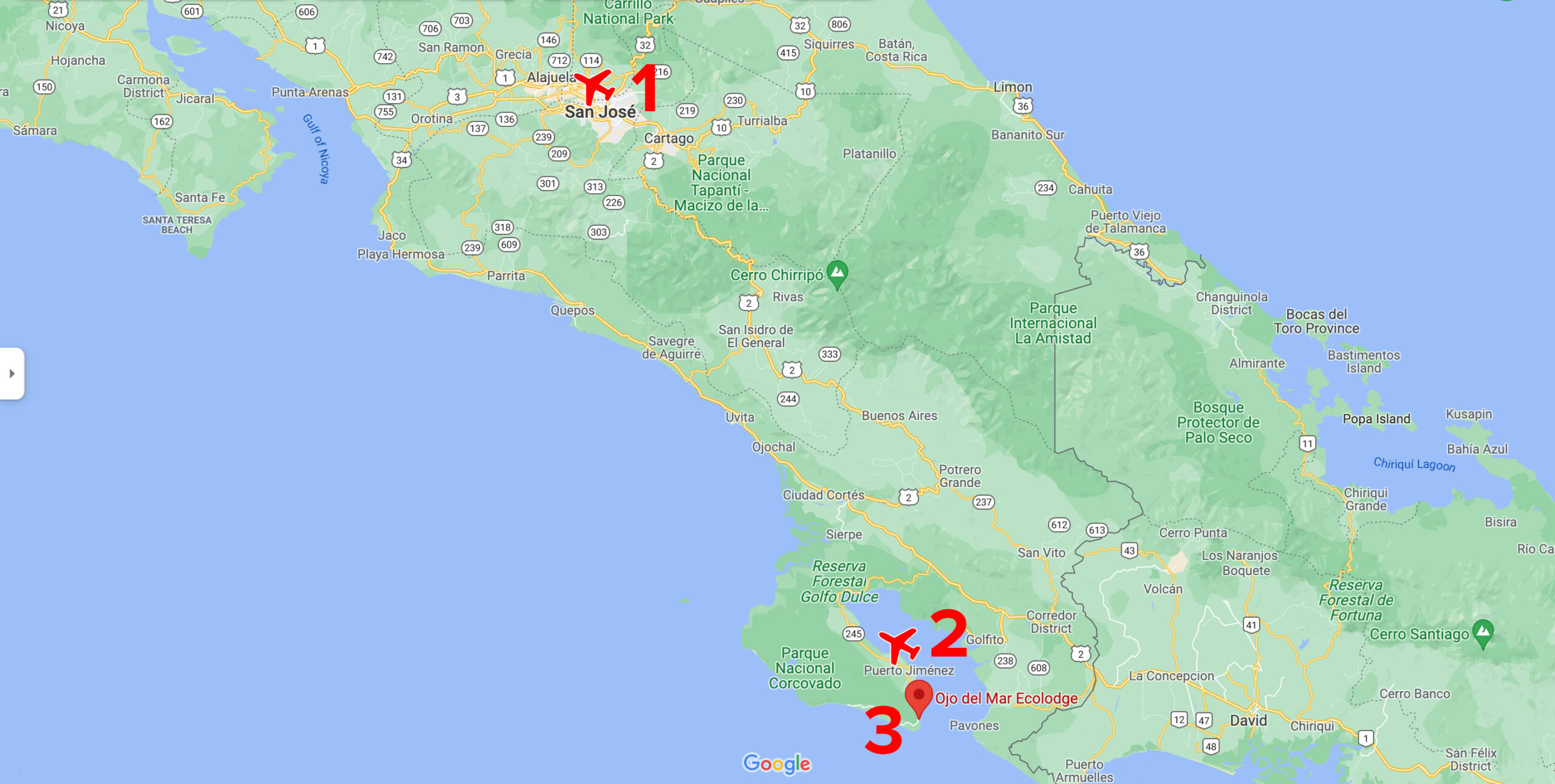 THE ESSENTIAL TRAVEL ROUTE IS:
Fly from the US departing destination to San Jose, Costa Rica on any major airline.

Fly from San Jose, Costa Rica to Puerto Jiminez, Costa Rica on a domestic Costa Rican Airline (ie, Sansa Airlines).

Take a taxi from Puerto Jiminez to Ojo del Mar (roughly 40 mins; taxis are waiting at the small airstrip in Puerto Jiminez, and can be pre-arranged by us).
Many major US airlines fly directly into either San Jose (recommended) or Liberia, Costa Rica (currently, roughly $397 r/t on Jetblue from LAX).  From there, a hopper flight is recommended to arrive in Puerto Jimenez.  There are several domestic Costa Rican airlines who accommodate this flight, and it is recommended that you either fly into San Jose and stay for a night or take a night flight to take the morning flight options from San Jose to Puerto Jimenez.  Arriving in Puerto Jimenez, Ojo del Mar is roughly a 40 taxi ride down the Gulfo Dulce.  For convenience, we have placed links to some of the more popular airlines, both for international travel and Costa Rican travel.  A car rental is another option and takes roughly 8 hours from San Jose.  
FOR RETURN TRAVEL:
As of December 2021, the US requires a negative Covid test upon re-entry.  There is a Covid testing site that is a service provided through the San Jose International Airport.  Please consider a two-hour buffer for this additional step prior to your departing flight.  OBS and ODM staff will gladly assist you in this step, it is very self-forward.
REGISTER
Upon submission of your registration request, we will follow with a confirmation email including all of the details to complete your booking shortly thereafter. If you have questions, please contact us!
POLICIES
COVID Policy
As this is a hands-on, in-person experience with shared practice space, meals, and shared sleeping quarters, we will not be able to maintain proper social distancing, nor will we require that participants wear a mask. If you feel as though you want to wear a mask, we absolutely respect and honor that. We understand that everyone is at a different place with Covid, so we ask that all participants are mindful of their surroundings in the week(s) leading up to this special weekend. The location will be clean, tidy, and prepared to receive the group. Our aim is to create a safe and comfortable environment while enjoying a return to in-person experiences. Please reach out with any questions or concerns.
Refund Policy
This weekend experience asks that you commit 100%. There is a strict no refund policy, however, should you be unable to attend your reservation is transferable to a friend or family member.
WHAT IS OUR BREATH COLLECTIVE
We are a subscription-based virtual breathwork community that offers daily breathes to members all across the global – from Brazil to the US to Europe and Australia. Our team of guides specialize in all the major forms of breathwork including Wim Hof, rebirthing, Zen practice, yogic pranayama, DNS, and XPT.